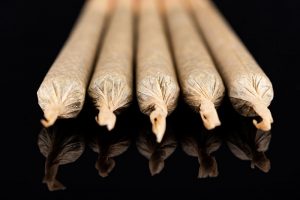 Maybe you're coming from a state where recreational marijuana use is still illegal (come on, after the 2020 we all had, it's criminal to make pot illegal at this point). Or perhaps you just want to kick back and relax after a day out on the strip. Whatever you're after or whatever level of indulgence you are at, there's no shortage of dispensaries around Sin City. The problem is knowing which one to go to. Which one has premium bud and which one sells overpriced, inferior quality to tourists. I'll admit, marijuana has come a long way from my youth, back when finding a seed in the joint wasn't that big of a deal, and every few weeks you'd scoop out the leftover resin in the pipe and smoke that, because you didn't feel like hitting up any dealers. Now, it's all premium goods. That is, if you know where to go. So here's a list of the top 10 dispensaries in Vegas, according to yours truly, and a few of my friends who, well, let's just say for them baseball isn't the national pastime. Reefer is.
10. The Apothecary Shoppe
Some places are more dive-like and don't have the best atmosphere. You walk in and you instantly want to walk out as quickly as possible. That's not the case with this joint. Its a solid setup. Frankly I've found it to have the best atmosphere of any other dispensary around. So if setting is the tipping point for where you buy your goods, this is the spot for you.
9. Medizin
This is where locals go to shop, which should tell you something. It's not as touristy, which also means it doesn't have some of the tourist mark-ups as other joints. Sure, it might not be the swinging hot spot as other locations on the Strip, but that's not what locals are looking for. They want good product at a fair price without hassle. If that sounds like your kind of thing, Medizin is the place for you.
8. The Source
When it comes to the best dispensary in Las Vegas The Source needs to be included. First, there are multiple locations, and you're going to get just about the same thing at any of them. What makes this a true win is the drive-through window. This is especially great if you already know what you want. If you have questions you can still walk in, but people go to The Source for its drive-through convenience.
7. Acres
You do want a museum in your smoke shop, right? If you're the kind of person who needs to stop at every roadside museum, whether it's for the history of the rocking chair or the world's largest coffee mug, this is the spot for you.
6. Reef
Feeling a little experimental? No? I get it. Plenty of people know what they like and stick with it. Can't knock someone who knows what they like. But if you're always chasing that new experience, Reef is the place to go. It's probably the best joint in Vegas for scoring some exclusive strains.
5. NuWu Cannabis Marketplace
It's on tribal land, which means you'll be supporting local Native Americans with the purchase. It's also the biggest dispensary in the world, which alone should make it worth a visit. There's a drive-through window, but I recommend going inside for this. Also, it has a solid tasting room, bot you'll want to come back post-COVID for that.
4. Essence
Follow them on Facebook. The selection and prices are fine. Nothing that will blow your spurs off, but from time to time they have the best sales on the planet. Kid you not. Especially if you're buying in larger quantities. So check out the sales to see what's up ahead of time.
3. Jenny's Dispensary
So a number of spots don't include tax in the listed price. It can be a bit of a sticker shock when the final total rings out ("the man" really does love to stick it to us, even after legalizing it). Jenny's has the taxes included in the price, so at least you know what you're paying.
2. The Dispensary NV
This is pretty old school (as old school as a recently passed legalized law allows for). It's got a solid selection and the staff is some of the best in the area. There are also daily sales and specials running, which puts it ahead of the curve in my book. It also has three spots around Vegas, so you won't need to sit in an Uber all day.
1. Planet 13
Free delivery. Need I say more? You don't even need to leave your room. If you're someone that likes to go inside you can always visit Planet 13, but it's the delivery option that's great. It's also one of the few spots that takes debit card (dispensaries are technically "illegal" in the eyes of the federal government, so until the feds are cool with it it's difficult for joints to receive bank loans or connect with banks at all, which makes Planet 13 accepting debit kind of amazing).
Take it all in
Sure, you could go to another Las Vegas dispensary, but why settle for second best? I can assure you these are all top spots. I don't get a kick back or commission from these locations for sales. They're just quality spots. Just remember to check with your room agreement (better look into this before booking the room to begin with). Because recreational marijuana is still a newer thing in these parts there are additional laws that need to change for allowing marijuana to be consumed in rooms. AirBNBs are the best wa to go if this is what you really are interested in, but whatever you end up doing, just make sure it's cool to smoke where you're at. If not? Well, you can always pick up edibles. Those are good wherever.